Vernon & District Family History Society
SHARING GENEALOGY KNOWLEDGE SINCE 1982
Lumby Cenotaph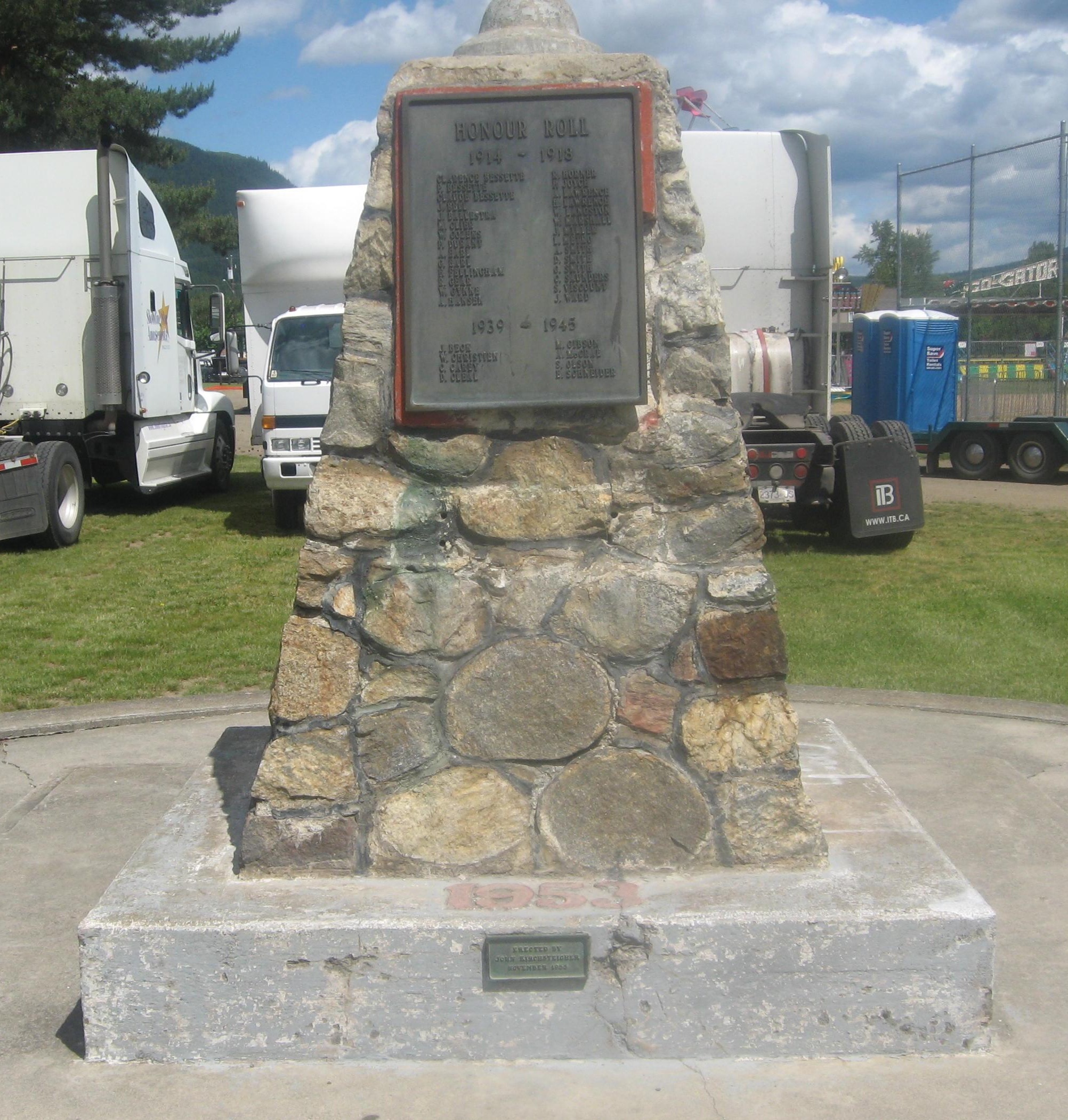 To get to the Lumby Cenotaph take Hwy. 6 east of Vernon to Lumby. In Lumby turn left at the four-way stop onto Shuswap Avenue. Then two blocks down turn right onto Glencaird Road. The Cenotaph is one block down on your left.
PLAQUES
There are two plaques on the Lumby Cenotaph.
Plaque 1

          HONOUR ROLL

         1914 ~ 1918

CLARENCE BESSETTE    R. HORNER
P. BESSETTE          P. JOYCE
CLAUDE BESSETTE      A. LAWRENCE
J. BELL              H. LAWRENCE
J. BALLESTRA         W. LANGSTON
M. CLIER             W. MARSHALL
W. COZEKS            J. MILLER
P. DURANT            L. METRO
A. EARL              A. SMITH
G. EARL              D. SMITH
F. FELLINGHAM        G. SMITH
R. GEAR              C. SAUNDERS
W. GYNNE             S. VISCOUNT
A. HANSEN            J. WARD


          1939 ~ 1945

J. BECK             M. GIBSON
W. CHRISTIEN        A. McCRAE
C. CAREY            S. OLSON
D. CLEAL            E. SCHNEIDER

Plaque 2

    ERECTED BY
JOHN KIRCHSTEIGHER
  NOVEMBER 1953
  

John Kirchsteiger was a kind and generous man who, after the war, was always on hand to help anyone in need. This cenotaph was his way of saying "thank you" to those brave men who gave him a wonderful place to live in Canada.